Smiths, the
1x LP 180g 33rpm vinyl= remastered=

-- In Stock --
2012originally released in 1984-2012 EU reissue on 180g HQ vinyl LP -With their eponymous 1984 debut, The Smiths began their tenure as the definitive British indie rock band as well as the torchbearers of a new musical era. Johnny Marr's inventive s...
1x LP 180 gr.33rpm= Remastered=

-- In Stock --
2012 reissue remastered on 180g LP= Hatful of Hollow is a 1984 compilation album released shortly after The Smiths eponymous debut which collects various singles, B-sides and BBC Radio 1 studio recordings with John Peel and David Jensen. In addition ...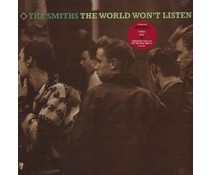 2x LP 180g 33rpm

-- In Stock --
2012 reissue on 180g 2LP=featuring a collection of the singles and their B-sides from 1985 to 1987, with the addition of You Just Haven't Earned It Yet, Baby [which was passed over for 'Shoplifters of the World Unite'] and the near-single There Is...