Smiths, the
1x LP 180 gr.33rpm HQ vinyl

-- Sold Out -- But expected in again!
2012 EU remastered on180g LP - still a classic to this day. Arguably the Smiths masterpiece, The wistful "The Boy With the Thorn in His Side" and the epic "There Is a Light That Never Goes Out" are two of the crowning achievements in the bands oeuvre an
1x LP 180g 33rpm vinyl= remastered=

-- In Stock --
2012 EU reissue on 180g LP -With their eponymous 1984 debut, The Smiths began their tenure as the definitive British indie rock band as well as the torchbearers of a new musical era. Johnny Marr's inventive songwriting and Morrissey's unconventional croon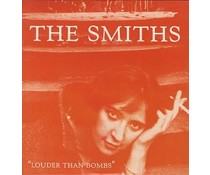 2x LP 180g 33rpm

-- Sold Out -- But expected in again!
2011 EU repressed on 180g 2xLP=A compilation of singles, B-sides, album tracks, and BBC sessions "Sheila Take a Bow," "Shoplifters of the World Unite," "Panic," "Shakespeare's Sister" and "Ask" "Half a Person," "Stretch Out and Wait," ...