Thelonious Monk
Thelonious Monk (1917 - 1982) was a US-American African-American jazz musician, who became known as a pianist and composer.
He was co-founder of Bebop alongside Charlie Parker, Dizzy Gillespie, Charlie Christian and Kenny Clarke. With his idiosyncratic piano style and his distinctive compositions Monk is considered one of the great individualists and major innovators of modern jazz.
Albums:
Genius Of Modern Music: Volume 1 (recorded in 1947-1948)/1956 compilated
Genius Of Modern Music: Volume 2 (1947-1952)
Straight, No Chaser (1951)
Thelonious Monk Trio (1952)
Monk (1953)
Thelonious Monk and Sonny Rollins (1953)
Thelonious Monk plays the Music of Duke Ellington (1955)
The Unique Thelonious Monk (1956)
Brilliant Corners (1957)
Thelonious Himself (1957)
Thelonious Monk with John Coltrane (1957)
Art Blakey's Jazz Messengers with Thelonious Monk (1957)
Monk's Music (1957)
Mulligan Meets Monk (1957, with Gerry Mulligan)
Blues Five Spot (1958)
Thelonious in Action (1958)
Misterioso (1958)
The Thelonious Monk Orchestra at Town Hall (1959)
5 by Monk by 5 (1958)
Thelonious Alone in San Francisco (1958)
Thelonious Monk at the Blackhawk (1960)
Monk in France (1961)
Monk's Dream (1962)
Criss Cross (1962)
Thelonious Monk in Italy (1963)
Monk in Tokyo (1963)
Miles and Monk at Newport (1963, met optreden van Miles Davis)
Big Band and Quartet in Concert (1963)
It's Monk's Time (1964)
Monk. (1964)
Solo Monk (1964)
Live at the It Club (1964)
Live at the Jazz Workshop (1964)
Underground (1967)
Monk's Blues (1968)
The London Collection (1971, drie delen)
Thelonious Monk Quartet with John Coltrane at Carnegie Hall (2005)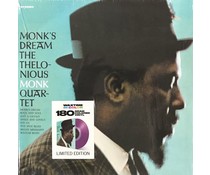 1x LP 180g 33rpm =coloured=

-- In Stock --
2018 EU repressing on 180g coloured vinyl LP=The 8-song set features five Monk originals including the rhythmically complex Five Spot Blues and Bolivar Blues, as well as a pair of solo sides sans accompaniment in Just A Gigolo and Body and Soul. Although
1x LP 180g 33rpm+download

-- In Stock --
2012 reissue on 180g LP+download= The complete original 1959 album The Thelonious Monk Orchestra at Town Hall originally on Riverside. One of the rare occasions in which Monk could present big band arrangements of his own compositions this time prepa...
1x LP 180g 33rpm

-- In Stock --
2013 EU repressing on 180g= Monks Dream is Thelonious Monk's debut for Columbia Records, this quartet is regarded by many as one of the best group's Monk was ever associated with and it is their studio interpretations of the material that remai