Aerosmith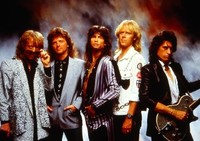 Aerosmith is an American rock band from Boston, Massachusetts. Formed in 1970, its members are sometimes called "The Bad Boys of Boston." 7 His style rock1,2 hard, typical of the 1970s, rooted in the blues, has come to also incorporate elements pop8 of metal1 and rhythm and blues9 and has inspired many artists of rock and metal ultérieurs10.
Aerosmith is one of rock bands that has had the most success, with 150 million albums sold worldwide, including 67 million in the United States. He holds the record for the largest number of gold records and multi-platinum for an American group. The group placed 21 hits in the Top 40 in the Billboard Hot 100 and 9 hits No. 1 at Mainstream Rock. They also won four Grammy Awards and 10 MTV Video Music Awards (category they are the record holders). They were inducted into the Rock and Roll Hall of Fame in 2001 and were ranked 57th among the 100 greatest artists of all time of Rolling Stone magazine in 2005.
ALBUMS:
1973 – Aerosmith
1974 – Get Your Wings
1975 – Toys in the Attic
1976 – Rocks
1977 – Draw the Line
1979 – Night in the Ruts
1982 – Rock in a Hard Place
1985 – Done with Mirrors
1987 – Permanent Vacation
1989 – Pump
1993 – Get a Grip
1997 – Nine Lives
2001 – Just Push Play
2004 – Honkin' on Bobo
2012 – Music from Another Dimension!
1x LP 180 gr.33rpm

-- In Stock --
( 1987 ) 2016 EU reissue on 180g LP = including 'Rag Doll', 'Dude (Looks like a Lady)', and 'Angel' Permanent Vacation marked a turning point in the band's career. Here the band worked alongside professional songwriters to craft an album chock full of hit
1x LP 180 gr.33rpm

-- In Stock --
( 1989 ) 2016 EU reissue on 180g LP=Following the release and huge success of 1987's Permanent Vacation, Pump saw Aerosmith returning to their hard rock roots. Tracks like 'Love in an Elevator' and 'The Other Side' see the band return to the confident swa
1x LP 180 gr.33rpm=remastered=LTD=

-- In Stock --
( 1973 )2013 EU reissue on 180g LP=Classic double-platinum debut by one of the most defining Hard Rock groups of the 70's. The self-titled record features the signature tracks "Mama Kin", "Walkin' The Dog" and the mother of all power ballads "Dream On".