Ali Farka Toure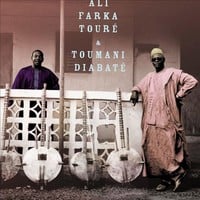 Ali Farka Toure=(1939-2006) was a Malian singer and guitarist. He is considered one of the most influential African musicians. His music is a cross between traditional Malian music and North American and British blues.
Albums:(selected)
1993 : The Source (with Taj Mahal)
1988 : Ali Farka Touré
1991 : The River
1996 : Radio Mali (compilation)
2002 : Mississippi to Mali(with Corey Harris)
2005 : In the Heart of the Moon (with Toumani Diabaté & Ry Cooder)
2010 : Ali and Toumani (with Toumani Diabaté)

-- Sold Out -- But expected in again!
2010 EU issue on 180g vinyl 2xLP -Ali and Toumani is the second and final album pairing the late Malian guitar virtuoso Ali Farka Touré and kora master Toumani Diabaté . Recorded over three afternoons at London's Livingston Studios in 2005, with con...
2x LP 180gr. Vinyl 33rpm

-- In Stock --
2012 EU issue 2xLP edition, pressing on 180g vinyl =In the Heart of the Moon is a summit meeting between two world music giants guitarist Ali Farka Toure and master of the korathe 21string gourd harptoumani Diabate It is the first newly recorded work...