Anouk
1x LP 180g 33rpm

-- In Stock --
(1997) - 2016 EU reissue on 180g vinyl LP-Together Alone is the debut album of Anouk, released in 1997. It features her hitsingle "Nobody's Wife" produced by Barry Hay, George Kooymans and John Sonneveld and the follow-up singles "Mood Indigo" and ....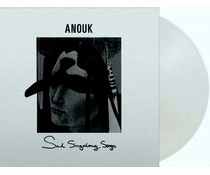 1xLP 180g 33rpm = coloured vinyl =

-- In Stock --
( 2013 ) 2021 reissue 180g coloured vinyl LP - Sad Singalong Songs is the first album to appear on her own label Goldilox. The album contains the hit "Birds", the Dutch entry for the Eurovision Song Contest in Malmö, Sweden. The song "Stardust" was unve..