Band Of Horses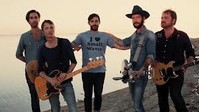 Band of Horses:
Seattle indie rockers who separated themselves with a rootsy twang, gorgeous slow-burn songs, and lush, reverb-drenched production. 
Emerging in 2004 with a blend of woodsy midtempo rock and reverb-laden vocals, Band of Horses gained an audience in their native Northwest before Everything All the Time made them indie rock darlings.
The band members are Ben Bridwell (vocals, guitar), Mat Brooke (guitar), Creighton Barrett and Rob Hampton.
Albums:
    2006: Everything All the Time
    2007: Cease to Begin
    2010: Infinite Arms
    2012: Mirage Rock
    2016: Why Are You OK
1x LP standard 33rpm vinyl + free MP3 Download

-- Sold Out -- But expected in again!
2007 EU issue on standard LP= With "Is There a Ghost," an exquisite chunk of pure-pop bliss. With a voice that lands somewhere between the euphoria of Brian Wilson and the anguish of the late Chris Bell (Big Star), Bridwell (and core mates Rob Hamp...
1x LP 180 gr.33rpm +download

-- In Stock --
2012 EU press on 180g LP+ download=their 4th studio album, arguably the bands most cohesive and accomplished set of compositions and performances to date.
1x LP standard 33rpm vinyl + free MP3 Download

-- In Stock --
2006 US vinyl LP edition - Wistful melancholic air to much of the album characterised by some down-beat lyrics and angst ridden vocals, and yet the songs are sung with such verve that despite the nature of the lyics they end up sounding almost triump...