Ben Webster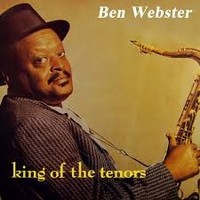 Ben Webster
(1909 - 1973) a.k.a. "The Brute" or "Frog", was an influential American jazz tenor saxophonist. Webster, born in Kansas City, Missouri, is considered one of the three most important "swing tenors" along with Coleman Hawkins and Lester Young. Known affectionately as "The Brute", he had a tough, raspy, and brutal tone on stomps (with his own distinctive growls), yet on ballads he played with warmth and sentiment. Stylistically he was indebted to alto star Johnny Hodges, who, he said, taught him to play his instrument.
Albums:
1953    King of the Tenors (Verve, 1953)
1953    1953: An Exceptional Encounter Live recording (1953)
1955    Music for Loving (Norgran, 1955), and Music with Feeling (Norgran, 1955)
1956    Art Tatum & Ben Webster Quartet
1957    Soulville (Verve, 1957)
1957    Coleman Hawkins Encounters Ben Webster (Verve, 1957)
1958   The Soul of Ben Webster (Verve, 1958)
1959    Ben Webster and Associates (Verve, 1959)
1959    Gerry Mulligan Meets Ben Webster (Verve, 1959)
1959    Ben Webster Meets Oscar Peterson (Verve, 1959)
1960    Ben Webster at the Renaissance (Contemporary, 1960)
1961    The Warm Moods (Reprise, 1961)
1962   Ben and "Sweets" (with Harry Edison) (Columbia, 1962)
1963    Soulmates (with Joe Zawinul) (Riverside, 1963)
1964    See You at the Fair (Impulse!, 1964)
1965    Live at The Jazzhus Montmartre (1965) there are two volumes, and a compilation called
Stormy Weather.
1965    Gone With the Wind (1965)
1967    Meets Bill Coleman (Black Lion, 1967)
1968    Big Ben Time (Ben Webster in London 1967) (Philips, 1968)
1971    Ben Webster Plays Ballads (recordings from Danish Radio 1967-1971) (Storyville, 1988 - SLP 4118)
1970    Webster's Dictionary (1970)
1972    Autumn Leaves (with Georges Arvanitas trio) (Futura Swing 05, 1972)
1973    Gentle Ben (with Tete Montoliu Trio) (Ensayo, 1973)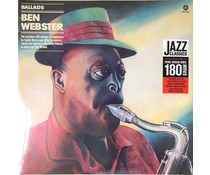 2x LP 180 gr.33rpm

-- In Stock --
2017 EU reissue on 180g 2LP=In the 1950s, tenor-saxophonist Ben Webster was at the peak of his powers. His musical personality really featured two separate emotions: harsh and tough on the faster pieces and surprisingly warm and tender on the ballads...
1x LP 180 gr.33rpm Virgin Vinyl = Remastered=

-- In Stock --
( 1959) - 2010 EU reissue on 180g LP- 1959's Ben Webster Meets Oscar Peterson, not only a definite first-disc choice for Webster newcomers, but one of the jazz legend's all-time great records." this album brings together two of the greatest stylists in A