Black Keys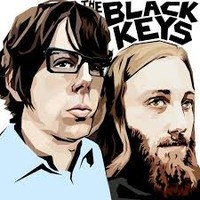 The Black Keys is an American bluesrockduo, founded. By Dan Auerbach (vocals and guitar) and Patrick Carney (drums) in 2001 in Akron (Ohio) At performances they are accompanied by Gus Seyffert (bass guitar and backing vocals) and John Wood (keyboards, guitar, percussion and backing vocals) since 2010.
Albums:
The big come up  -2002
Thickfreakness      -2003
Rubber factory      -2004
Magic potion      -2006
Attack & release -2008
Brothers      -2010
El camino      -2011
Turn Blue      -2014
1x LP 140 gr.33 rpm + Bonus CD

-- In Stock --
( 2010 ) 2021 EU reissue on 140g vinyl 2LP- This deluxe anniversary edition celebrates the 10th anniversary of Brothers, the Black Keys' breakthrough album. The album has been fully remastered and contains three previously unavailable )songs. The extensi
1x LP standard 33rpm+download

-- Sold Out -- But expected in again!
2008 EU re-issue standard LP+download-this is the electrifying world of The Black Keys and their sophomore album, "thickfreakness"(2003)
Tracks Feeling heartsick from love's tumult, sweating bullets in the middle of the night, drinking lightning ...
1x LP 140 gr.33 rpm + Bonus CD

-- In Stock --
2019 EU issue on 140g LP-The Black Keys' long-awaited ninth studio album, "Let's Rock", their first in five years, is a return to the straightforward rock of the singer/guitarist Dan Auerbach and drummer Patrick Carney's early days as a band. Auerbach say