Blur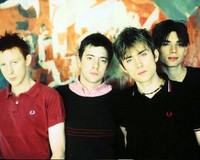 Blur
are an English rock band, formed in London in 1988 as Seymour. The group consists of singer/keyboardist Damon Albarn, guitarist/singer Graham Coxon, bassist Alex James and drummer Dave Rowntree. Blur's debut album Leisure (1991) incorporated the sounds of Madchester and shoegazing. Following a stylistic change influenced by English guitar pop groups such as the Kinks and the Beatles, and XTC. Blur released Modern Life Is Rubbish (1993), Parklife (1994) and The Great Escape (1995). As a result, the band helped to popularise the Britpop genre and achieved mass popularity in the UK, aided by a chart battle with rival band Oasis in 1995 dubbed "The Battle of Britpop".
In recording their follow-up,
Blur (1997)
, the band underwent another reinvention, showing influence from the lo-fi style of American indie rock groups. The album, including the "Song 2" single, brought Blur mainstream success in the United States. Their next album, 13 (1999) saw the band members experimenting with electronic and gospel music, and featured more personal lyrics from Albarn. In May 2002, Coxon left Blur during the recording of their seventh album Think Tank (2003). Containing electronic sounds and more minimal guitar work, the album was marked by Albarn's growing interest in hip hop and African music. After a 2003 tour without Coxon, Blur did no studio work or touring as a band, as members engaged in other projects. In 2008 Blur reunited, with Coxon back in the fold, for a series of concerts in the following year, and have continued to release several singles and retrospective releases, as well as tour internationally. In 2012, Blur received a Brit Award for Outstanding Contribution to Music.
Albums:
    1990 - Leisure
    1993 - Modern Life Is Rubbish
    1994 - Parklife
    1995 - The Great Escape
    1997 - Blur
    1999 - 13
    2003 - Think Tank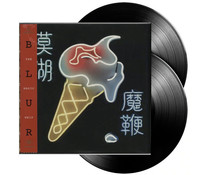 2XLP 180g vinyl 33rpm

-- In Stock --
2015 EU issue pressed on 180g Vinyl 2LP+download-First New Album Since 2003's Think Tank! double vinyl LP, gatefold picture sleeve with inners, obi-strip and download code. A full twelve years since their last long-player, all four original me...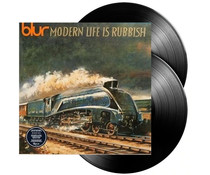 2xLP 180 gr.33rpm HQ vinyl+download

-- In Stock --
( 1993 ) 2012 EU reissue 180g vinyl LP+MP3 -Blur's second album saw them finding their feet just before they suddenly went supernova,including the singles For Tomorow & Chemical World -In songs like "Chemical World", ...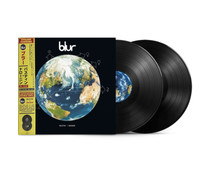 2x LP 33rpm

-- In Stock --
1998-2022 EU reissue vinyl 2LP - Bustin' + Dronin' features nine remixes (note: no Peel Session) by William Orbit (tracks 1, 6, 7 & 9), Adrian Sherwood (2 & 8), Moby (4), Thurston Moore (5) and John McEntire (7). Originally released in 1998 in Japan-only