Byrds, the
The Byrds were an American rock band in the 60s and 70s of the twentieth century.
The group was founded in 1964 in Los Angeles by vocalist and guitarist Jim McGuinn (he later changed his name to Roger McGuinn ) , David Crosby and Gene Clark . Later joined Chris Hillman and Michael Clarke joined the group .
The music is characterized by different currents that are brought together , especially folk and rock , folk rock which yielded . Many of the songs that the band released were also originally from folk artists like Bob Dylan . The sound of The Byrds is mainly inspired by the sophisticated harmonies and the typical 12 - string guitar sound of the British group The Searchers .
Later, the group was more his own way , with the absolute highlight the album "The Notorious Byrd Brothers " . The next album , titled " Sweetheart Of The Rodeo " , was strongly tinged country and was initially only moderately received. Nashville, the center of country music in the U.S. , was shocked that a rock band proved able to bring . Such album Only in the years that followed, it became clear that the band was in fact the founder has been in the country-rock genre .
Due to the many personnel changes the band gradually lost much of its luster . The original lineup came together in 1973, once for an album that is simply given the title of " The Byrds " . A sequel was also not given here .
Gram Parsons began after his stint in The Byrds The Flying Burrito Brothers . David Crosby started with Stephen Stills , Graham Nash and Neil Young, Crosby , Stills , Nash and Young .
Discography:
    Mr. Tambourine Man (1965)
    Turn! Turn! Turn! (1965)
    Fifth Dimension (1967)
    Younger Than Yesterday (1967)
    The Notorious Byrd Brothers (1968)
    Sweetheart of the Rodeo (1968)
    Dr. Byrds & Mr. Hyde (1969)
    Ballad of Easy Rider (1969)
    (Untitled) (1970)
    Byrdmaniax (1971)
    Farther Along (1971)
    Byrds (1973)
1x LP 180 gr.33rpm audiophile Vinyl = Remastered=

-- In Stock --
( 1968) 2012 EU reissue on audiophile 180gram VIRGIN VINYL=The recording of the 1968 album The Notorious Byrd Brothers was a labour of love; it's more experimental and progressive than their previous works and is considered one of the best albums they mad
1x LP 180 gr.33rpm audiophile Vinyl = Remastered=

-- Sold Out -- But expected in again!
( 1967) - 2016 EU reissue on 180g LP= 1967 The 11-song platinum plus album consisted of their biggest chart pop singles like the aforementioned "Mr. Tambourine Man," "Turn! Turn! Turn!," "So You Want To Be A Rock 'N' Roll Star," and "All I Really Want To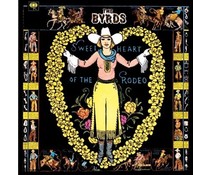 1x LP 180 gr.33rpm audiophile Vinyl = Remastered=

-- Sold Out -- But expected in again!
( 1968 ) - 2017 EU reissue on 180g-Sweetheart of the Rodeo might not be the most commercial album of The Byrds, but today the record is considered to be one of the most influential country-rock albums in the history of music.