Donald Fagen
1x LP 180 gr.33rpm HQ vinyl

-- In Stock --
2012 EU reissue on 180g vinyl -The Nightfly(1982) is the critically acclaimed debut solo album from Steely Dan cofounder Donald Fagen and incidentally one of the very first fully digital recorded pop albums - Produced by Gary Katz and engineered by R...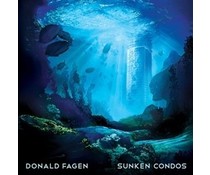 2x LP 180g 33rpm =clear vinyl=

-- Sold Out -- But expected in again!
2012 US pressing on 180g 2LP-his 4th solo album for Warner Reprise and his first solo offering in over six years. - Featuring 8 New Originals and a Cover of Isaac Hayes' Out of the Ghetto. Mastered by Chris Bellman at Bernie Grundman Studios &...