Donna Summer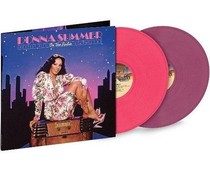 2x LP coloured vinyl =gatefold=

-- Sold Out -- But expected in again!
( 1979 ) 2018 EU repressed on coloured 2LP = This iconic 1979 collection, features 16 of Donna Summer's sweetest hits of the '70s; with "No More Tears (Enough Is Enough)," a duet with Barbra Streisand in an extra-long, 12-inch version that takes up most
1x LP 180g 33rpm=gatefold=

-- In Stock --
( 1982 ) 2014 US reissued in 180g LP-The follow-up to Donna Summer's first big Geffen album did reasonably well and proved to be the lull before the storm. "State of Independence" just missed being a hit, and "Woman In Me" cracked the pop and R&B Top 40..