Drive-By Truckers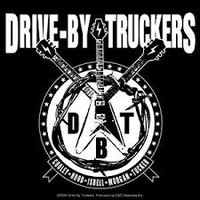 Drive-By Truckers are an alternative country/Southern rock band based in Athens, Georgia.
Albums:
    1998 : Gangstabilly
    1999 : Pizza Deliverance
    2001 : Southern Rock Opera
    2003 : Decoration Day
    2004 : The Dirty South
    2006 : A Blessing and a Curse
    2008 : Brighter Than Creation's Dark
    2010 : The Big To-Do
    2011 : Go-Go Boots
    2014 : English Oceans
2XLP 180 gr.33rpm HQ vinyl =RTI=

-- In Stock --
2008 EU reissue on 180g LP presse in RTI = The Drive-By Truckers have come back with an excellent offering following their last two stellar releases, Southern Rock Opera and Decoration Day. The new ground that this album covers, along with the ever-i...
2x LP 180gr. HQ Vinyl 33rpm =RTI=

-- In Stock --
2008 EU issue & pressed in RTI on 180g vinyl =A 19-song 75+ minute southern gothic rock n' roll masterpiece. Featuring the songs "The Righteous Path", "3 Dimes Down" and "Purgatory Line".