Ella Fitzgerald/Louis Armstrong
1x LP 180 gr.33rpm

-- In Stock --
( 1957 ) - 2010 EU reissue on 180g vinyl LP= featuring the 2 giants at their peak on some of the finest jazz standards ever recorded with smooth vocals that unmistakeable trumpet and a little help from The Oscar Peterson Tr...
2x LP 200g 45RPM=numbered=Quality Record Pressing=

-- Sold Out -- But expected in again!
( 1956 ) 2011 US Quality Record Pressing on 45rpm 200g 2xLP-Two of the most influential, popular voices in modern music, Ella Fitzgerald and Louis Armstrong form a jazz dream team. A once-in-a-lifetime masterpiece since 1956. accompanied by the Oscar Pete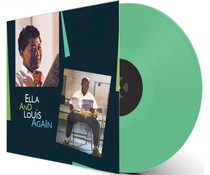 1x LP 180 gr.33rpm HQ vinyl

-- In Stock --
( 1957 ) 2018 EU reissue 180g coloured vinyl LP - Ella And Louis Again, the sequel to 1956's acclaimed Ella and Louis. Ella's voice — radiant, warm, sweet as honey, and Louis' gritty, gravelly, croon formed a sound rife with commercial success.