Foreigner
2x LP 180gr.33rpm

-- In Stock --
( 1980S ) 2017 EU issue on 180g vinyl 2LP - Foreigner celebrates 40 years as one of rock's most popular and enduring acts with a new career-spanning compilation titled 40 that features 40 hits from 40 years.
1XLP 180g vinyl 33rpm

-- In Stock --
( 1984 ) 2016 EU reissue on 180g vinyl LP - Agent Provocateur contains the band's biggest hit single, "I Want to Know What Love Is", which was a #1 single in the UK and the U.S., staying at the top spot for three and two weeks respectively. The follow-up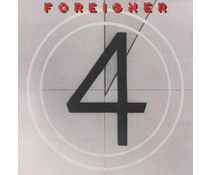 1x LP 180 gr.33rpm = remastered =

-- Sold Out -- But expected in again!
( 1981 ) 2013 EU reissue on 180g vinyl LP - Featuring the massive hit "Waiting For A Girl Like You" &"Urgent", "Woman In Black", "Luanne" and "Juke Box Hero" showed the versatile nature of the group. Combining heavy riffing with effective power balladry,