3x LP 180 gr. Virgin Vinyl 33rpm =High Quality Pressing Audiophile Mastering=

-- In Stock --
( 1966 ) 2020 Speakers Corner reissue on 180 g Virgin Vinyl High Quality Pressing Audiophile Mastering LP edition =Absolute best version of Bach's Cello Suites you will ever hear! = Today it is difficult to understand that despi...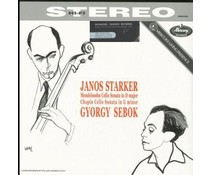 1x LP 180g 33rpm

-- Sold Out -- But expected in again!
2008 German Speakers Corner issue limited edition 8track LP pressed on 180gram VIRGIN VINYL originally recorded in 1962 Any release by Janos Starker is eagerly awaited by record collectors the world over The New York Times pinpointed the reason The c...