Japan
3x LP 180g audiophle vinyl

-- In Stock --
( 1980 ) 2021 EU reissue Half-Speed remaster 180g vinyl=Quiet Life is Japan's third album. Musically the album was a huge change of style for the band since it stepped away from their earlier alternative Glamrock and into New Wave.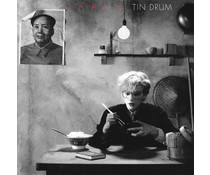 -- In Stock --
( 1981) 2018 EU reissue on 180g Vinyl LP- including "Ghosts," "The Art of Parties," "Visions of China" and "Cantonese Boy." British new wave group Japan released five studio albums between 1978 and 1981 culminating in the groundbreaking Tin Drum which sta
1xLP 180g 33rpm +download

-- In Stock --
( 1980) 2018 EU remastered 180g Vinyl LP - features the title track single "Gentlemen Take Polaroids" and the atmospheric, Satie-esque "Nightporter,"The album is widely considered as the one which consolidated Japan's unique aesthetic approach and sound.