Jefferson Airplane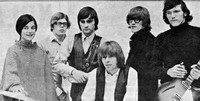 Jefferson Airplane was an
American rock
band from San Francisco which was founded in 1965, was particularly active in the second half of the 60s. The band was a major representative of the psychedelic rock. Later came from Jefferson Airplane bands Hot Tuna and Jefferson Starship forth.
The band had great success at the Woodstock festival, where they at 7 o'clock in the morning on the last day of the festival entered the stage with slicks legendary words "now you will see morning maniac music". In Holland Pop Festival a year later Jefferson Airplane was on the first night were the headliners.
The second album Surrealistic Pillow 1967 marked the international breakthrough for the band. The album includes their two most famous songs White Rabbit and Somebody to love. White Rabbit describes the effects of LSD in an analogy with Alice in Wonderland. After this album, the band hit a more experimental direction.
The album Volunteers from 1969 is the last of the band in the classic line.Kantner and Slick formed Jefferson Starship in 1974.
Albums:
(1966)Jefferson Airplane Takes Off
(1967)Surrealistic Pillow
(1967)After Bathing at Baxter's
(1968)Crown of Creation
(1969)Volunteers
(1971) Bark
(1972)Long John Silver
(1989)Jefferson Airplane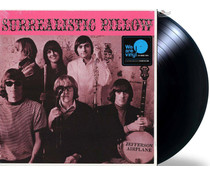 1x LP 180g 33rpm

-- In Stock --
( 1967 ) - 2017 EU reissue on 180g LP = Jefferson Airplane's 1967 Psychedelic Breakthrough First Record to Put Countercultural San Francisco Scene on Mainstream Music Map: Includes Top 10 Hits "Someone to Love" and "White Rabbit".