Kenny Burrell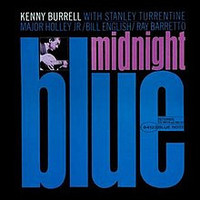 Kenneth Earl Burrell (born July 31, 1931) is an American jazz guitarist known for his work on the Blue Note label. His collaborations with Jimmy Smith produced the 1965 Billboard Top Twenty hit album Organ Grinder Swing. He has cited jazz guitarists Charlie Christian and Django Reinhardt as influences, along with blues guitarists T-Bone Walker and Muddy Waters. 
Burrell is a professor and Director of Jazz Studies at the UCLA Herb Alpert School of Music.
Albums:
Best of Kenny Burrell (1956)
Bluesy Burrell (1962)
Midnight Blue (1963)
Kenny Burrell and John Coltrane (1963)
Guitar Forms (1964)
For Charlie Christian and Benny Goodman (1966)
Man at Work (1966)
Ode To 52nd Street (1967)
Night Song (1968)
God Bless the Child (1971)
Tin Tin Deo (1977)
Primal Blue (1995)
Love Is the Answer (1998)
Blue Muse (2003)
1x LP 180 gr.33rpm = Blue Note classic vinyl =

-- In Stock --
(1963 ) 2021 Blue Note reissue Classic Vinyl Series on 180g vinyl LP- Midnight Blue is considered one of the most exciting recordings of Kenny Burrell's long career. His soulful playing on such songs as "Chitlins Con Carne," "Saturday Night Blues" and "G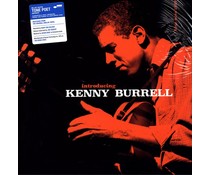 1x LP 180 gr.33rpm HQ vinyl =Tone Poet Series=

-- Sold Out -- But expected in again!
( 1956 ) - 2019 Blue Note's New Tone Poet Series = reissued on 180GR vinyl = Introducing Kenny Burrell put the jazz world on notice in 1956 that an extraordinary new guitarist was on the scene who combined bebop and the blues with smoky aplomb. Burrell is