Kenny Dorham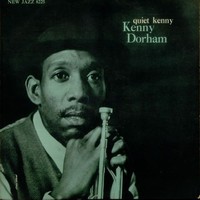 Kenny Dorham
(1924 – 1972) was an American jazz trumpeter, singer, and composer born in Fairfield, Texas. Dorham's talent is frequently lauded by critics and other musicians, but he never received the kind of attention or public recognition from the jazz establishment that many of his peers did. For this reason, writer Gary Giddins said that Dorham's name has become "virtually synonymous with underrated." He also composed the jazz standard "Blue Bossa," which first appeared on Joe Henderson's album
Page One.
Albums:
    1953: Kenny Dorham Quintet (Debut)
    1955: Afro-Cuban (Blue Note)
    1956: 'Round About Midnight at the Cafe Bohemia (Blue Note)
    1956: And The Jazz Prophets Vol. 1 (ABC-Paramount ABC-122)
    1957: Jazz Contrasts (Riverside) featuring Sonny Rollins
    1957: 2 Horns / 2 Rhythm (Riverside) featuring Ernie Henry
    1958: This Is the Moment! (Riverside)
    1959: Blue Spring (Riverside) with Cannonball Adderley
    1959: Quiet Kenny (New Jazz)
    1960: The Kenny Dorham Memorial Album (Xanadu)
    1960: Jazz Contemporary (Time)
    1960: Showboat (Time)
    1961: Whistle Stop (Blue Note)
    1961: Inta Somethin' (Pacific Jazz)
    1962: Matador (United Artists)
    1963: Una Mas (Blue Note)
    1963: Scandia Skies (SteepleChase)
    1963: Short Story (SteepleChase)
    1964: Trompeta Toccata (Blue Note)
1x LP 180 gr.33rpm HQ vinyl + bonus track

-- In Stock --
Originally released in 1960 - 2013 EU Limited edition, high definition 180 g vinyl LP -"Jazz Contemporary", by the Kenny Dorham Quintet was recorded for the Time label in 1960 and mixes originals by Dorham with jazz standards.There are two addes bonu...