Kensington
1 XLP 180g 33rpm =gatefold=

-- In Stock --
2016 EU issue on 180g LP =The fourth studio album by the popular band Kensington is called Control and contains their brand new hit "Do I Ever". Kensington has rapidly transformed into an extremely successful Dutch pop/rock band, winning several MTV and 3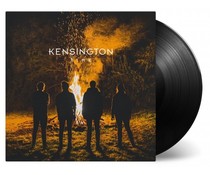 1 XLP 180g 33rpm =gatefold=

-- Sold Out -- But expected in again!
2019 EU issue on 180g LP = Includes the singles "Bats", "What Lies Ahead", and "Uncharted". Time is the brand new album by the Dutch band Kensington. To record the album, the band retreated to Canada, so they were able to focus on what it's all about for
1 xLP 180g 33rpm+bonus CD

-- In Stock --
2014 EU issue on 180g vinyl LP+CD-Rivals is the new album of Dutch Indie Rock band Kensington. This band from Utrecht, Holland received an MTV Award and multiple radio Awards in the Netherlands. The first single "Streets" is already becoming a hit ...