King Crimson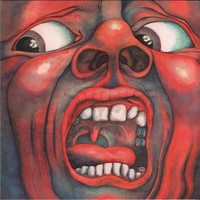 King Crimson is a British rock band around guitarist Robert Fripp. The band was founded in 1969 and is considered one of the inventors of progressive rock. The career of the band is regularly interrupted by change of personnel; The group also regularly raised to go as regularly starting again. The albums listed under the MK-sections are studio albums.
Albums:
    1969 - In the Court of the Crimson King
    1970 - In the Wake of Poseidon
    1970 - Lizard
    1971 - Islands
    1973 - Larks' Tongues in Aspic
    1974 - Starless and Bible Black
    1974 - Red
    1981 - Discipline
    1982 - Beat
    1984 - Three of a Perfect Pair
    1994 - VROOOM, EP
    1995 - THRAK
    1998 - ProjeKct Two - Space groove
    2000 - The ConstruKction of Light
    2000 - ProjeKct X - Heaven and Earth
    2002 - Happy with What You Have to Be Happy With, EP
    2003 - The Power to Believe
    2011 - Jakszyk, Fripp, Collins - A King Crimson ProjeKct: A Scarcity of Miracles
1x LP 200 gr.33rpm HQ vinyl + download

-- In Stock --
2010 EU reissue on 200g LP + download =Best of 60s. In The Court Of The Crimson King stands as one of the defining albums of British rock music and one of the finest debut albums of all time. Described as "an uncanny masterpiece" by Pete Townshend,
1x LP 200 gr.33rpm HQ +bonus download

-- In Stock --
2013 EU reissue on 200g LP+ bonus download-the 1974 definitive King Crimson album and highly influential to future prog-metallers, Recording in Olympic studios in London,the last Crimson studio album of the 70s and one of the decade's masterpieces -...