Kings Of Leon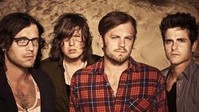 Kings of Leon
is an American rock band from Nashville. The band consists of three brothers Caleb, Jared and Nathan Followill and their cousin Matthew Followill. Kings of Leon was formed in 2000 and has released six studio albums.
The brothers were in their childhood, especially with their father on the way which was a preacher in a church community.
The band plays a mix of blues, country music, punk, garage and rock 'n' roll. The band went long in the act for big names like Pearl Jam, U2 and Bob Dylan. Also at many festivals they are found. The group has a large fan base built up mainly in the alternative music scene, mostly through word-of-mouth advertising.
Include the United Kingdom, the band is very popular. She achieved success with songs like Mollys Chambers, The Bucket and Sex on Fire.
The album
Because of the Times
in the country reached the first position in the album list. On September 22, 2008 released the fourth album Only by the Night. The single Sex on fire in September 2008 was their first number one hit in the UK singles charts and in Finland. Also second single Use Somebody did well. The song reached the top spot in the Flemish Ultratop 50.
In October released the fifth album
Come Around Sundown
, the Grammy-nominated Radioactive and Pyro as singles.
In September 2013 released the sixth album by Kings of Leon, namely Mechanical Bull.
Albums:
    2003 - Youth and Young Manhood
    2004 - Aha Shake Heartbreak
    2007 - Because of the Times
    2008 - Only by the Night
    2010 - Come Around Sundown
    2013 - Mechanical Bull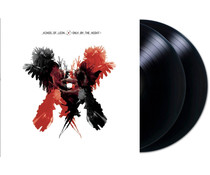 2x LP 180g 33rpm=gatefold=

-- In Stock --
( 2008 ) 2015 EU re-issue on 2LP 180g vinyl = including the singles "Sex On Fire", to the closing refrain of "Cold Desert", "Only By The Night" fiand the bonus recording "Frontier City".