Lynyrd Skynyrd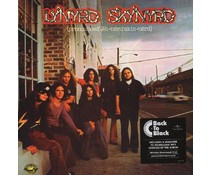 1x LP 180g 33rpm+download

-- In Stock --
( 1973 ) 2015 EU reissue on 180g vinylLP - Their 1973's debut album of legendary pioneers of Southern Rock Lynyrd Skynyrd . They brought together all the best elements of Southern culture: Blues Country, Garage Rock, Southern poetry and created a gumbo..
2x LP 180gr. 33rpm

-- In Stock --
2019 EU issue on 180g vinyl 2LP -Career spanning selection includes tracks such as "Free Bird", "Tuesday's Gone", "Sweet Home Alabama", and many more songs. Lynyrd Skynyrd Collected focuses on the entire catalogue of the band and besides their well-known
1x LP 180 gr.33rpm

-- Sold Out -- But expected in again!
2011 EU repress on 180g LP = Pronounced Leh-Nerd Skin-Nerd is the debut album of legendary pioneers of Southern Rock Lynyrd Skynyrd. Landmark Release Includes Ageless "Free Bird," "Tuesday's Gone," "Gimme Three Steps," "Simple Man"