Madonna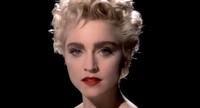 Madonna Louise Ciccone[2] (/tʃɪˈkoʊneɪ/ chi-KOH-nay) (born August 16, 1958) is an American singer-songwriter, actress, and businesswoman. One of the most prominent cultural icons for over three decades, she has achieved an unprecedented level of power and control for a woman in the entertainment industry. She attained immense popularity by pushing the boundaries of lyrical content in mainstream popular music and imagery in her music videos, which became a fixture on MTV. Madonna is known for continuously reinventing both her music and image, and for retaining a standard of autonomy within the recording industry. Music critics have praised her diverse and innovative musical productions which have also been known to induce controversy. Cited as an influence among numerous artists around the world, she is often referred to as the "Queen of Pop".
Discography
    Madonna (1983)
    Like a Virgin (1984)
    True Blue (1986)
    Like a Prayer (1989)
    Erotica (1992)
    Bedtime Stories (1994)
    Ray of Light (1998)
    Music (2000)
    American Life (2003)
    Confessions on a Dance Floor (2005)
    Hard Candy (2008)
    MDNA (2012)
2x LP standred 33rpm - PINK VINYL =LIMITED=

-- In Stock --
( 1990 ) 2016 EU reissue on 180g 2xLP= All hits collected in one case,a definitive retrospective of Madonna's heyday in the '80s. After all, it features 17 of Madonna's greatest hits, from "Holiday" and "Like a Virgin" to "Like a Prayer" and "Vogue" fr
1x LP 180 gr.33rpm

-- In Stock --
(1986 )-2012 repressed on 180g vinyl LP=True Blue is the album where Madonna truly became Madonna the Superstar -- the endlessly ambitious, fearlessly provocative entertainer that knew how to outrage, spark debates, get good review...
1x LP 180 gr.33rpm HQ vinyl

-- In Stock --
( 1989 ) - 2012 reissue on 180g LP= Madonnas fourth studio album, featuring the classic hits Like A Prayer, Express Yourself, Cherish and Dear Jessie. Presented in a picture sleeve complete with original a...