Marvin Gaye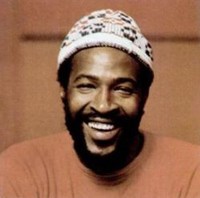 Marvin Gaye (1939 – 1984) was an American singer-songwriter and musician.Gaye helped to shape the sound of Motown Records in the 1960s with a string of hits, including "How Sweet It Is (To Be Loved By You)" and "I Heard It Through the Grapevine", and duet recordings with Mary Wells and Tammi Terrell, later earning the titles "Prince of Motown" and "Prince of Soul". During the 1970s, he recorded the concept albums What's Going On and Let's Get It On and became one of the first artists in Motown to break away from the reins of its production company. Gaye's later recordings influenced several R&B subgenres, such as quiet storm and neo-soul.
Following a period in Europe as a tax exile in the early 1980s, Gaye released the 1982 Grammy Award-winning hit "Sexual Healing" and the Midnight Love album.
He was fatally shot by his father, Marvin Gay, Sr. on April 1, 1984 at their house at 2101 South Gramercy Place in Western Heights in the West Adams district of Los Angeles. Since his death, Gaye has been posthumously honored by many institutions, including the Grammy Lifetime Achievement Award and the Rock and Roll Hall of Fame.
Discography:
    1961 Soulful Moods
    1963 That Stubborn Kinda Fellow
    1964 When I'm Alone I Cry
    1964 Together (mit Mary Wells)
    1965 A Tribute to the Great Nat King Cole
    1965 Moods Of Marvin Gaye
    1966 Take Two
    1966 Marvin Gaye & Kim Weston
    1967 United
    1968 You're All I Need
    1968 In The Groove (I Heard It Through The Grapevine)
    1969 MPG
    1969 Easy
    1970 That's The Way Love Is
    1971 What's Going On
    1972 Trouble Man
    1973 Diana and Marvin
    1973 Let's Get It On
    1976 Live
    1976 I Want You
    1977 Live At London Palladium
    1978 Here, My Dear
    1981 In Our Lifetime
    1982 Midnight Love
    1982 Sexual Healing
    1983 Every Great Motown Hit Of Marvin Gaye
    1985 Dream Of A Lifetime
    1985 Romantically Yours