Oasis
2xLP 180g 33rpm +download=gatefold=

-- Sold Out -- But expected in again!
( 1998 ) 2009 EU reissue on 180g vinyl 2LP =A collection of non album B-sides recorded between 1994–1997, including 'The Masterplan,' 'Acquiesce', 'Stay Young', 'Fade Away' and their live cover version of The Beatles' 'I Am The Walrus'.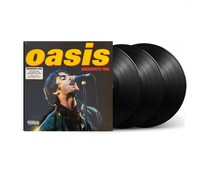 3xLP 180g 33rpm

-- In Stock --
( 1996 ) - 2021 EU issue 180g vinyl 3LP -It's the first time this more than legendary concert is going to be officially released! A must-have for Oasis fans
1xLP 180g 33rpm +download=gatefold=

-- Sold Out -- But expected in again!
2016 EU reissue on 180g LP+download- Oasis' overtly psychedelic 2000 release marked the departure of (Paul "Bonehead" Arthurs and Paul "Guigsy" McGuigan) - including "Go Let It Out," S"unday Morning Call" & "Who Feels Love?"