Pat Metheny
1x LP 180 gr.

-- In Stock --
2019 German ECM reissue on HQ vinyl = 'From This Place' is one of the records I have been waiting to make my whole life', Metheny says. 'It is a kind of musical culmination, reflecting a wide range of expressions that have interested me over the years, sc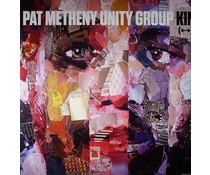 2x LP 140 gr.33rpm +CD

-- Sold Out -- But expected in again!
2014 EU issue on 140g vinyl 2-LP + BONUS CD, pressed at Pallas MFG in Diepholz -Last year, for the first time since 1980, guitarist Pat Metheny recorded with a band that highlighted tenor saxophone. Unity Band, which went on to win Metheny his 20th G...