Rihanna
2x LP 180g 33rpm + download

-- In Stock --
( 2012 ) - 2017 EU reissue on 180g LP+download = with hit number "Diamonds" The album marked her first to debut at #1 on the Billboard Unapologetic took home the Grammy Award for Best Urban Contemporary Album, Rihanna's seventh.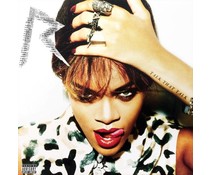 1x LP 180g 33rpm + download

-- Sold Out -- But expected in again!
2017 EU reprint on 180g LP+bonus download- Talk That Talk is the sixth studio album, including the international hit "We Found Love","You da One", "Talk That Talk" (featuring rapper Jay Z) and a remix of "Birthday Cake" (featuring Chris Bro...
2x LP 180g 33rpm + download

-- In Stock --
(2007) 2017 EU reissue on 180g 2LP-Good Girl Gone Bad is Rihanna's groundbreaking third studio album and it follows up the rising star's debut Music of the Sun and her sophomore release A Girl Like Me. Along with the album's overall success, its sin...