Tori Amos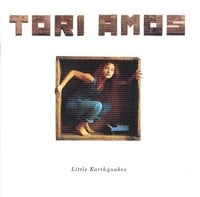 Imaginative pianist and versatile vocalist whose brutally honest songwriting earned her several hits and a rapturous following. 
Albums:
1988 Y Kant Tori Read
1992 Little Earthquakes
1994 Under the Pink
1996 Boys for Pele
1998 From the Choirgirl Hotel
1999 To Venus and Back
2001 Strange Little Girls
2002 Scarlet's Walk
2004 Welcome to Sunny Florida
2005 The Beekeeper
2007 American Doll Posse
2009 Abnormally Attracted to Sin 
2009 Midwinter Graces
2011 Night of Hunters
2012 Gold Dust
2014 Unrepentant Geraldines
1x LP 180g 33rpm =Half speed master cut at Abbey Road Studios with New liner notes

-- In Stock --
( 1992 ) 2015 EU reissue on 180g LP half speed master cut-one of the standout debut albums of the last twenty years, as it oozes quality & integrity, incl. hits:Me And A Gun," "Silent All These Years," "China," "Winter" and "Crucify
1x LP 180 gr. 33rpm= Half Speed master cut at abbey road studios, new liner notes

-- Sold Out -- But expected in again!
( 1994 ) 2015 EU reissue on 180g LP =Under the Pink is the 2nd solo album by singer-songwriter Tori Amos. On the back of the hit single "Cornflake Girl", the album debuted at UK #1,