Tragically Hip
1x LP 180 gr.33rpm audiophile Vinyl

-- Sold Out -- But expected in again!
Originally rleased in 1989 - 2013 reissue on 180g audiophile pressing vinyl edition = The Hip' established themselves as Canada's best musical export product in their subsequent career, 25 years and counting. Standout tracks on Up To Here include ...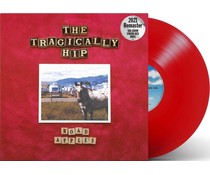 1x LP 180g 33rpm =coloured vinyl=

-- In Stock --
1990 - 2021 reissue on HQ red vinyl LP=including "Little Bones," "Fiddler's Green," "Long Time Running," and "Three Pistols." The album is now approaching double diamond certified status in Canada.