Verve, the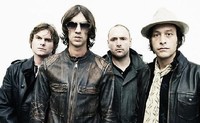 The Verve were an English rock band formed in Wigan in 1990 by lead vocalist Richard Ashcroft, guitarist Nick McCabe, bass guitarist Simon Jones and drummer Peter Salisbury. The guitarist and keyboard player Simon Tong became a member at a later date. Beginning with a psychedelic sound, by the mid-1990s the band had released several EPs and three albums. It also endured name and line-up changes, break-ups, health problems, drug abuse and various lawsuits. The band's commercial breakthrough was the 1997 album Urban Hymns, one of the best-selling albums in UK Chart history, and the single "Bitter Sweet Symphony", which became a worldwide hit.[1] In 1998, the band won two Brit Awards—winning Best British Group, appeared on the cover of Rolling Stone magazine in March, and in February 1999, "Bitter Sweet Symphony" was nominated for the Grammy Award for Best Rock Song.
Discography
    A Storm in Heaven (1993)
    A Northern Soul (1995)
    Urban Hymns (1997)
    Forth (2008)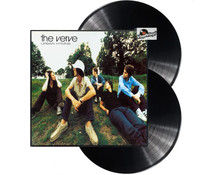 2x LP standard 33rpm

-- In Stock --
( 1997 ) 2016 repressing vinyl 2LP - Urban Hymns is full of sweeping, grandiose soundscapes that make for a rich album and undoubtedly the best of the band's career. Includes "Bitter Sweet Symphony," "Sonnet," & "The Drugs Don't Work"