Albert King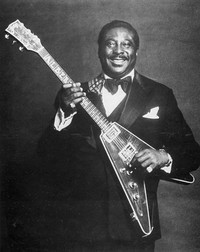 Albert King (1923 - 1992) was an influential American blues guitarist and singer and a major influence in the world of blues guitar playing. King was posthumously inducted into the Rock and Roll Hall of Fame in May 2013.He was one of the "Three Kings" of the Blue Guitar (along with BB King and Freddie King). King mat 1.98 meters and weighed 118 kg and was known as "The Velvet Bulldozer".
1x LP 150 gr.33rpm HQ vinyl

-- Sold Out -- But expected in again!
(originally released in 1967)1998 US Sundazed 11track LP pressed on High Definition Virgin Vinyl Recorded at Stax Recording Studio Memphis Tennessee between March 1966 and June 1967presented in stickered & sealed picture sleeve