Bruce Springsteen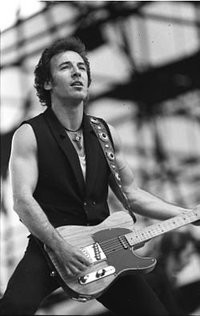 Bruce Springsteen (1949 - ) is an American musician and singer-songwriter. He is best known for his work with the E Street Band. Nicknamed "The Boss", Springsteen is widely known for his brand of poetic lyrics, Americana working class, sometimes political sentiments centered on his native New Jersey and his lengthy and energetic stage performances, with concerts from the 1970s to the present decade running over three hours in length.
Springsteen's recordings have included both commercially accessible rock albums and more somber folk-oriented works. His most successful studio albums, Born in the U.S.A. and Born to Run, showcase a talent for finding grandeur in the struggles of daily American life; he has sold more than 64 million albums in the United States (making him the fifteenth highest selling artist of all-time) and more than 120 million records worldwide, making him one of the world's best-selling artists of all time. Springsteen has earned numerous awards for his work, including 20 Grammy Awards, two Golden Globes and an Academy Award as well as being inducted into the Rock and Roll Hall of Fame and the Songwriters Hall of Fame in 1999.
Discography
    Greetings from Asbury Park, N.J. (1973)
    The Wild, the Innocent & the E Street Shuffle (1973)
    Born to Run (1975)
    Darkness on the Edge of Town (1978)
    The River (1980)
    Nebraska (1982)
    Born in the U.S.A. (1984)
    Tunnel of Love (1987)
    Human Touch (1992)
    Lucky Town (1992)
    Greatest Hits (1995)
    The Ghost of Tom Joad (1996)
    The Rising (2002)
    Devils & Dust (2005)
    We Shall Overcome: The Seeger Sessions (2006)
    Magic (2007)
    Working on a Dream (2009)
    The Promise (2010)
    Wrecking Ball (2012)
    High Hopes (2014)
1x LP 180g 33rpm

-- In Stock --
2015 reissue on 180g LP -1984s Born In The U.S.A. fincluding "Dancing In The Dark," "Glory Days" and "I'm Goin' Down," and the album became 1985's biggest-selling LP, spending 84 weeks in Billboard's Top 10.
1x LP 180g vinyl 33rpm

-- In Stock --
2015 EU reissue on 180g LP-featuring adigitally remastered version of his second studio album which was recorded with the E Street Band at 914 Sound Studios in Blauvelt in New York and includes Rosalita [Come Out Tonight] and 4th of July Asbury Park ...
2x LP 180g 33rpm remastered =2015 RSD =

-- In Stock --
2015 EU reissue on 180g 2LP -Springsteen's fifth album (1980)was an ambitious summary of his greatest musical strengths to that point, with the Top 5 single "Hungry Heart" and the party-ready tracks "Ramrod" and "Cadillac Ranch-Stickered & sealed ga...