Stan Getz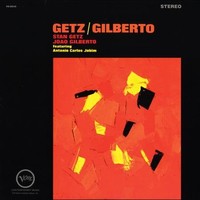 Stanley Getz was an American jazz saxophonist. Playing primarily the tenor saxophone, Getz was known as "The Sound" because of his warm, lyrical tone, his prime influence being the wispy, mellow timbre of his idol, Lester Young.[1] Coming to prominence in the late 1940s with Woody Herman's big band, Getz is described by critic Scott Yanow[2] as "one of the all-time great tenor saxophonists". Getz went on to perform in bebop, cool jazz and third stream, but is perhaps best known for popularizing bossa nova, as in the worldwide hit single "The Girl from Ipanema" (1964).
Albums:
1953   Stan Getz Plays
1955   West Coast Jazz
1955   Hamp and Getz
1956   The Steamer
1956   For Musicians Only
1957   Stan Getz And The Oscar Peterson Trio
1957   At The Opera House
1957   Getz Meets Mulligan In Hi-Fi
1961   Focus
1962   Jazz Samba
1963   Stan Getz With Cal Tjader
1963   Jazz Samba encore!(with Luiz Bonfa )
1963   Getz/Gilberto
1964   Getz/Gilberto #2
1964   Getz Au-Go-Go  
1964   Stan Getz & Bill Evans
1967   Sweet Rain  
1972   Captain Marvel  
1976   The Best Of Two Worlds
1977   The Peacocks
2x LP 200 gr. HQ Vinyl 45RPM =Quality Record Pressing=

-- Sold Out -- But expected in again!
originally from 1963 - 2012 US analouge production limited 200g LP 45rpm pressing,Mastered by George Marino at Sterling Sound& Pressed on 200g Vinyl at Quality Record Pressings! Two names spring to mind upon hearing the words jazz and samba, name...
1XLP 180g 33rpm=Remastered

-- In Stock --
2014 EU reissue on 180g vinyl LP -truly classic Verve title that you simply don't want to miss.One of the biggest-selling jazz albums of all time, not to mention bossa nova's finest moment, Getz/Gilberto trumped Jazz Samba by bringing two of bossa ...
1x LP 180 gr.33rpm + bonus track

-- Sold Out -- But expected in again!
Originally released in 1958 - 2010 EU re-pressing 180gm audiophile vinyl - Stan Getz tenor sax & Gerry Mulligan baritone sax were consistently voted top dogs on their respective instruments in successive. Downbeat polls and sooner or later they were ...