Genesis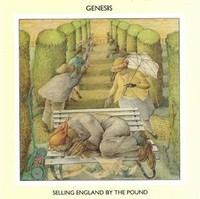 Genesis is a progressive rock band from the United Kingdom, founded in 1967 by Peter Gabriel, Mike Rutherford, Tony Banks, Anthony Phillips and Chris Stewart. In the seventies, the group made a name in the avant-garde of pop music with her drama and black humor, but threw in the eighties the helm with accessible work that the band's many hits.
Albums:
1969:    From Genesis to Revelation
1970:    Trespass
1971:    Nursery Cryme
1972:    Foxtrot
1973:    Selling England By The Pound
1975:    The Lamb Lies Down On Broadway
1976:    A Trick of the Tail
1976:    Wind & Wuthering
1978:    ...And Then There Were Three...
1980:    Duke
1981:    Abacab
1983:    Genesis
1986:    Invisible Touch
1991:    We Can't Dance
1997:    Calling All Stations
1x LP 180 gr.33rpm

-- Sold Out -- But expected in again!
1973 - 2018 EU reissue 180g vinyl LP -Arguably the bands finest hour the album features I Know What I Like Firth Of Fith and the epics The Battle Of Epping Forest and The Cinema Show One of the topselling mo...
2x LP 180g 33rpm+ download

-- In Stock --
( 1974 ) 2018 EU reissue on 180g 2LP- Peter Gabriels final LP-Given all the overt literary references of Selling England by the Pound, along with their taste for epic suites such as "Supper's Ready," it was only a matter of time before Genesis attempted a
1x LP 180g 33rpm

-- Sold Out -- But expected in again!
( 1983 ) 2018 EU repressing on 180g LP- including hits "Mama," "Just A Job To Do," "That's All," " Home By The Sea,"" Illegal Alien " and " Taking It All Too Hard". The eponymous twelfth album from the Phil Collins Frontman Genesis: A mix of long and shor