Genesis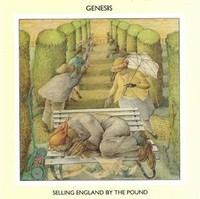 Genesis is a progressive rock band from the United Kingdom, founded in 1967 by Peter Gabriel, Mike Rutherford, Tony Banks, Anthony Phillips and Chris Stewart. In the seventies, the group made a name in the avant-garde of pop music with her drama and black humor, but threw in the eighties the helm with accessible work that the band's many hits.
Albums:
1969:    From Genesis to Revelation
1970:    Trespass
1971:    Nursery Cryme
1972:    Foxtrot
1973:    Selling England By The Pound
1975:    The Lamb Lies Down On Broadway
1976:    A Trick of the Tail
1976:    Wind & Wuthering
1978:    ...And Then There Were Three...
1980:    Duke
1981:    Abacab
1983:    Genesis
1986:    Invisible Touch
1991:    We Can't Dance
1997:    Calling All Stations