Sarah Vaughan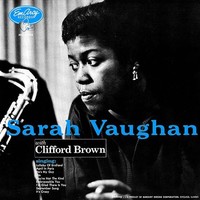 Sarah Vaughan (1924 - 1990) was an American jazz singer, who along with Billie Holiday and Ella Fitzgerald to the greatest projected in its genre. She is known for her expressive voice, unique vibrato and wide vocal range.
Bop's greatest diva, a highly influential jazz singer with extraordinary range and perfect intonation, ranging from soft and warm to harsh and throaty.
Selected Albums:
1953 The Divine Sarah Vaughan
1954 Swingin Easy
1954 Sarah Vaughan (with Clifford Brown)
1954 The Divine Sarah Sings
1955 Tops in Pops
1955 With John Kirby and His Orchestra
1955 In the Land of Hi-Fi
1956 Sassy
1x LP 180 gr.33rpm Virgin Vinyl = Remastered=

-- In Stock --
014 EU repressed on 180g Vinyl - A superb collection of jazzy vocal tunes, with Vaughan using her voice as an instrument - one of the most important 'jazz meets vocal' sessions ever recorded! One of the greatest vocalists of all-time, during her li...