Sonny Clark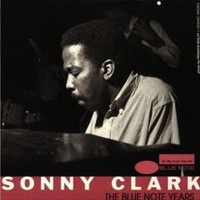 Sonny Clark
(1931 - 1963) was an American hard bop jazz pianist. He lived a short, but is nevertheless hear, as a leader on many boards but mostly as a sideman of hard bop musicians like Kenny Burrell, Donald Byrd, Paul Chambers, John Coltrane, Dexter Gordon, Art Farmer, Curtis Fuller, Grant Green, Philly Joe Jones, Clifford Jordan, Jackie McLean, Hank Mobley, Art Taylor, enWilbur Ware.
Clark was born and grew up in a mining town. When he was twelve, he moved to Pittsburgh in 1951 to San Francisco, where he played the tenor saxophonist Wardell Gray. In 1953 he recorded with Teddy Charles Gray and his first album. That year he played with a lot of Westcoast musicians such as Art Pepper. In the period 1953-1956 he worked with clarinetist Buddy DeFranco, which he also acted in 1954 in Europe. With DeFranco He also made recordings, appeared on Verve. In 1956 he played with the Lighthouse All Stars Howard Rumsey. He also played in that time with Serge Chaloff and Sonny Criss, and in 1957 he accompanied singer Dinah Washington.
In New York, he became one of the most recognized jazz musicians, as a leader and facilitator. As a band leader he recorded include "Sonny Clark Trio" (1957), "Cool Struttin '(1957) and" Sonny's Crib "(his last recordings with John Coltrane, 1959) , albums that are considered. As his best records He played as a sideman on plates of hard bop musicians who recorded for (mostly) Blue Note, including Kenny Burrell, Donald Byrd, Grant Green, Jackie McLean, Art Farmer, Hank Mobley, Art Taylor, Dexter Gordon ("Go") and Clifford Jordan. He also participated in recording sessions, for example, Charles Mingus, Sonny Rollins, Billie Holiday and Lee Morgan.
Clark was addicted to heroin and died of an overdose. After his death, his work was by jazz fans (especially in Japan) are more appreciated than during his lifetime.
Discography:
     Oakland, 1955 (1955), Uptown
     Dial "S" for Sonny (1957), Blue Note
     Sonny's Crib (1957), Blue Note
     Sonny Clark Trio (1957), Blue Note
     Sonny Clark Quintets (1957), Blue Note
     Cool Struttin '(1958), Blue Note
     The Art of The Trio (1958), Blue Note
     Blues in the Night (1958), Blue Note
     My Conception (1959), Blue Note
     Sonny Clark Trio (1960), Time / Bainbridge - with Max Roach, George Duvivier
     Leapin 'and Lopin' (1961), Blue Note
With Tina Brooks:
     Minor Move (1958)
With Serge Chaloff:
     Blue Serge (1956)
With Buddy DeFranco:
     In a Mellow Mood (1954)
     Cooking the Blues (1955)
     Autumn Leaves (1956)
     Sweet and Lovely (1956)
     Jazz Tones (1956)
With Lou Donaldson:
     Lou Takes Off (1957)
With Curtis Fuller:
     Bone & Bari (1957)
     Curtis Fuller Volume 3 (1957)
     Two Bones (1958)
By Dexter Gordon
     Go (1962)
     A Swingin 'Affair (1962)
With Bennie Green:
     Soul Stirrin '(1958)
     The 45th Session (1958)
     Bennie Green Swings the Blues (1959)
With Grant Green:
     Gooden's Corner (1961)
     Nigeria (1962)
     Oleo (1962)
     Born to Be Blue (1962)
With Johnny Griffin:
     The Congregation (1957)
With John Jenkins:
     John Jenkins with Kenny Burrell (1957)
With Philly Joe Jones:
     Showcase (Riverside, 1959)
With Clifford Jordan:
     Cliff Craft (1957)
With Jackie McLean:
     Jackie's Bag (1959)
     A Fickle Sonance (1961)
     Vertigo (1962)
     Tippin 'the Scales (1962)
With Hank Mobley:
     Poppin '(1957)
     Hank Mobley (1957)
     Call Curtin (1957)
With Lee Morgan:
     Candy (1958)
With Ike Quebec:
     Easy Living (1962)
With Howard Rumsey's Lighthouse:
     Mexican Passport (1956)
     Music for Light Housekeeping (1956)
     Oboe / Flute (1956)
With Louis Smith:
     Smithville (1958)
With Stanley Turrentine:
     Jubilee Shout!! (1962)
With Don Wilkerson:
     Preach Brother! (1962)
1x LP standard 33rpm

-- Sold Out -- But expected in again!
2011 Blue Note repressed on standard LP- Considered one of the great young pianists of the mid-to-late 1950s, Recorded in 1958, this legendary date with the still-undersung Sonny Clark in the leader's chair also featured a young Jackie McLean on alt...