Beck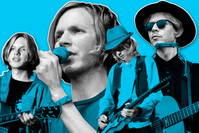 Beck Hansen (1970 - ) is an American singer, songwriter, musician, and record producer. He rose to fame in the early 1990s with his experimental and lo-fi style, and became known for creating musical collages of wide-ranging genres.
Studio albums:
Golden Feelings (1993)
Stereopathetic Soulmanure (1994)
Mellow Gold (1994)
One Foot in the Grave (1994)
Odelay (1996)
Mutations (1998)
Midnite Vultures (1999)
Sea Change (2002)
Guero (2005)
The Information (2006)
Modern Guilt (2008)
Morning Phase (2014)
Colors (2017)
Hyperspace (2019)
2x LP 180g 33rpm + download

-- In Stock --
(2002) 2016 EU reissue 180g 2LP= Beck's 7th album, Sea Change, signified a dramatic musical shift in sound and tone from its predecessor, the funky, R&B-influenced Midnite Vultures, and as its title suggested, was a profound transformation. Inspired by ..
1x LP 180 gr.33rpm +download

-- In Stock --
2016 EU repress on 180g LP+ download - Morning Phase(2014) is true to its title:including "Waking Light" & "Blue Moon". "…one of his best: a tenderly stunning song cycle of languid, prairie-dusted psychedelia that recalls Beck's reflective 2002...
1x LP 180g 33rpm + download

-- Sold Out -- But expected in again!
(1996) 2016 EU remastered on 180g LP - Odelay was Beck's breakthrough, including "Where It's At," "Devils Haircut" and "The New Pollution." Odelay won two Grammy Awards in 1997, Best Alternative Music Album and Best Male Rock Vocal Performance