David Crosby
1x LP 180g 33rpm Vinyl

-- In Stock --
(1971) - 2010 EU reissue on 180g Vinyl - David Crosbys 1971 solo debut was a unique eclectic and wilfully expansive album. Musically the album has an exploratory almost jazzy feel with its bright production, cloaking the listener in acoustic strains and
1x LP 180 gr.33rpm audiophile Vinyl = Remastered=

-- In Stock --
2021 un-official issue on vinyl 2LP= From a live FM broadcast recorded at Zellerbach Hall, Berkeley, CA, 24th November, 1975.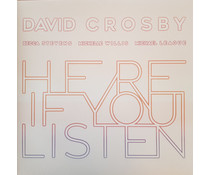 2x LP 180g 33rpm =gatefold=

-- Sold Out -- But expected in again!
2018 EU issue on 180g LP-David Crosby, 77, is releasing a new album. Here If You Listen is a collaboration with Michael League (Snarky Puppy), Mischelle Willis and Becca Stevens. On this almost acoustic album the focus is on the harmonies of the company.