David Crosby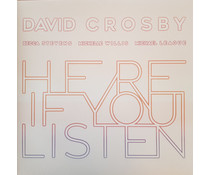 2x LP 180g 33rpm =gatefold=

-- In Stock --
2018 EU issue on 180g LP-David Crosby, 77, is releasing a new album. Here If You Listen is a collaboration with Michael League (Snarky Puppy), Mischelle Willis and Becca Stevens. On this almost acoustic album the focus is on the harmonies of the company.
1x LP 180g 33rpm Vinyl

-- Sold Out -- But expected in again!
2010 Rhino reissue on 180g Vinyl - David Crosbys 1971 solo debut was a unique eclectic and wilfully expansive album. Musically the album has an exploratory almost jazzy feel with its bright production, cloaking the listener in acoustic strains and ...